Meet the Team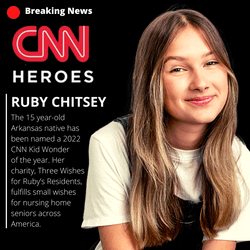 CEO and Founder
Ruby Kate Chitsey
Ruby, now 16, is the founder and CEO of 'Three Wishes for Ruby's Residents". Ruby and her "Kid Board" work with essential staff across America to fulfill small wishes for nursing home seniors that are low on family, happiness or funds. Ruby has spent over $500,000 fulfilling wishes and raising awareness for nursing home seniors since 2018. The headquarters of her organization is located in Harrison, Arkansas. 
Ruby has received the highest accolades a youth can receive for her humanitarian work for nursing home seniors. She is a national speaker and author of the award-winning book, "Kindness is my Hobby". She was honored by Prince Harry when she received the very prestigious Princess Diana Award in 2021, an award bestowed to some of the most influential humanitarian young adults in the world.  Ruby is CNN's "Kid Wonder of the Year" for 2022, Time Magazine Kid of the Year finalist 2022,  People Magazine's "Ten Girls Changing the World and was a Barbie & Mattel Role Model for the 2020-2021 tour of female leaders who have shattered glass ceilings. She is the 2021 national winner of the Prudential Spirit of Service Award and the first youth from the state of Arkansas to receive this national title. Ruby is an avid activist for seniors. 
Board of Directors  
Our Board is unique and critical to our mission and growth.
Our Board of Directors is comprised of community and national leaders with expertise in a wide range of areas. 
Our "Kid Board" is comprised of remarkable youth activists who want to make a difference in the lives of nursing home seniors across the nation.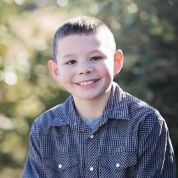 Kid Secretary 
Sawyer Hartman -Age 14

Specialty: Books, literature, activities for nursing home seniors
Sawyer is the workhorse behind many of the awesome activities we come up with for nursing home seniors. Sawyer arranges for live bands to play, fireworks and barbeques, child plays and skits and tons of homemade goodies for the residents. Sawyer also helps secure donated goods from local businesses and works hard to include local youth in all of our activities and programs. 
Sawyer's family owns a small business that combines athletics with public service. It's called the Dug Out. Athletes don't just learn how to compete; they also learn how to give back to their community. Sawyer helps kids from his community complete small service projects before and after practice. The concept is great athletes, great humans. The athletes accomplish a lot for our local nursing home seniors!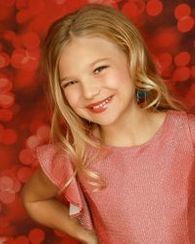 Kid Board Member
Delaney-Age 13
Delany is an award-winning beauty queen and a student at Jasper Elementary. She transitioned to a spot on our main Kid Board in 2022 after serving a year as our Youth Literacy Director. She has been volunteering more than half of her life! She started helping others in her community when she was just 7 years old. She and her brother raised chickens through 4-H and provided over 100 DOZEN eggs to a local Christian food bank. She is also an Arkansas Diamond State Princess. 
Delaney is serious about raising awareness about the issues facing seniors living in long-term care. She is passionate about giving back to nursing home seniors, finding meaningful ways to connect with them and showing other kids how to do it!  Her hobbies include basketball, soccer, singing, playing the piano, hunting, traveling with family, participating in pageants, and of course, READING!
Delaney has lived in Arkansas her whole life, and lives on the outskirts of Jasper just 5 minutes from the Buffalo National River. Jasper is known for its friendly people and the annual Elk Fest.
She would love to be an elementary teacher when she grows up so she can inspire young minds!
Delaney describes herself as sociable and compassionate. She loves people and especially senior citizens! She says her role model is Dr. Martin Luther King, Jr. because he was courageous, God-fearing, and unrelenting.
Delaney believes that "Volunteering is a gift that has no boundaries." She loves the wisdom and life experience of older folks. She says that her motto is Jeremiah 29:11, "For I know the plans I have for you," declares the LORD, "plans to prosper you and not to harm you, plans to give you hope and a future."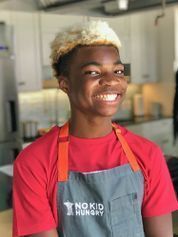 KId Board Diversity and Inclusion Advisor
Michael Platt
Michael is an nationally recognized author,  baker, business owner, social entrepreneur and food justice advocate. Michael has been baking since he was 9 years old but has been interested in the challenges of inequality since, at age 6, he learned about Dr Martin Luther King, the historic March on Washington and the fight for equality for people of color. Inspired by a pair of TOMS shoes he received as a present, Michael decided that he would begin a baking business with a 1-for1 model. From the beginning of Michael's Desserts, he has donated a dessert to someone in need for every one dessert that he sells.  With this model Michael has served hundreds of people
Michael appeared in season 4 of Kids Baking Championship on Food Network as well as Season 1 of Be Our Chef on Disney and has been featured in the Washington Post, Good Morning America, The Today Show and CNN. 
We are thrilled to have Michael on board. He joined in December 2021.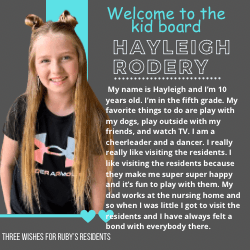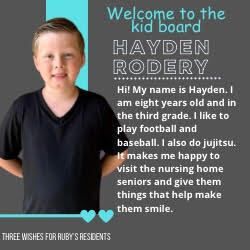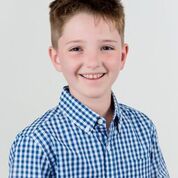 Kid Board Member  
Oliver-Age 14
Specialty: Books, literature, technology in the elderly, disabilities, blindness, Veterans  
Oliver read a 1000-page book when he was 9 years old. The boy knows the importance of a good book. Oliver has collected over 2000 books nationally to build better libraries for elders residing in institutions. Oliver was inspired to collect books just for seniors when he noticed the books available to elders in nursing homes were poor quality and thrift store cast aways. Elders love to read and Oliver is providing quality books for them. Send Oliver your used books- he will put them to excellent use. PO Box 1546 Harrison AR 72602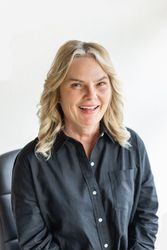 President 
Amanda Chitsey  APN RN MSN  
Amanda Chitsey is the current president of Three Wishes for Ruby's Residents. Amanda is geriatric nurse practitioner and has spent over 25 years caring for nursing home seniors at the bedside. Amanda is a mother of 3, wife, small business owner, author, philanthropist and avid advocate for senior citizens. Amanda works alongside her daughter, Ruby Chitsey, and their collective goal is to brighten the days of seniors in long-term care. Amanda is a graduate of the Medical University of South Carolina with a double major in Geriatrics and Adult Health. She completed her training at the Medical University Hospital in Charleston, SC with a specialty in Geriatrics before moving to a private practice in Arkansas. Amanda has been a champion for elder rights for over a quarter of a century.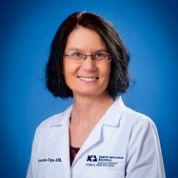 Secretary 
Mandy Cope
Ms. Cope is an award-winning nurse with over 20 years of diverse nursing experience. Ms. Cope has received the prestigious Boone County "Nurse of the Year" award SIX times. Ms. Cope also received the merit award from the Boone County Chamber of Commerce for her dedication and unmatched service to Veterans.  Ms. Cope has extensive nursing experience with seniors in long-term care, Veteran's healthcare services and primary care clinic management.
Ms. Cope manages a busy medical clinic and over 60% of their patient population is greater than 60 years old. Ms. Cope is constantly challenging healthcare to find ways to improve access to care for the older population. She has set up a telecommunication system for this population recently with great success. Ms. Cope also arranged for senior blood draws to be done from their car to minimize their exposure and struggles to get in and out of a car.
We love Mrs. Cope's innovation, energy and ability to improve the lives of our frail elders and we welcome what she brings to our team.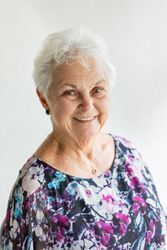 Fiscal Manager 
Lynda Barnard MEd 
Lynda has a Master's in Elementary Education and has over 26 years experience as a kindergarten teacher in the Georgia Public School System. Lynda is a tireless leader in the field of education and brings an enormous amount of knowledge to our team. We value our relationship with fellow educators and Lynda helps us cultivate these relationships in our community and beyond. 
Lynda is also one of our amazing senior citizen board members. Her insight on aging, ageism and geriatrics is paramount to what we do and how we view the world around us. 
Lynda works closely with our CPA, Doshier and Associates, to provide oversight, transparency and to ensure fiscal responsibility.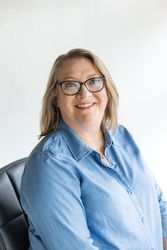 Board Member
Melissa A. Chu, M.D.
Dr Chu is a well-respected physician in our community with decades of experience serving seniors in living in the long-term care setting.
Melissa is a 1992 graduate of the University of Arkansas for Medical Sciences and completed her residency in Internal Medicine at UAMS in 1995.  After moving to Harrison in 1995, Melissa served on the staff at North Arkansas Regional Medical Center until 2006, when she "retired "to be an active stay-at-home mom.  Melissa served as Medical Director at Legacy Hospice of North Arkansas from 2006 through 2020, and is currently Medical Director at Maple Esplanade Assisted Living since its opening in 2012, and has served as the regional clinician for the Arkansas Department of Health Chest Clinic in north Arkansas since 2008.
Melissa has been involved in all levels of PTA  and was also a proud band and choir mom.  She has volunteered with organizations in the community including The CALL of Boone and Newton Counties and "MomsConnect".  She is active in Eagle Heights Baptist Church and enjoys spending her free time with her husband, Dr Victor Chu MD.  Victor and Melissa have four children:  Kennon, Hannah, Victoria, and Conner.  Melissa is excited at the opportunity to serve area nursing home and assisted living residents alongside the Three Wishes for Ruby's Residents team.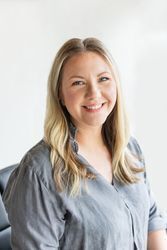 RN Long-Term Care Expert, Clinical Outreach
Jordan Chaney
Jordan is an award-winning RN with over a decade of diverse nursing experience.  Jordan was named Arkansas "Nurse of the Year" in 2019 by the Arkansas Business Bureau as featured in Arkansas NEXT Magazine. She also received the "Heart Award" from The Hospice and Palliative Care Association of Arkansas in 2018. 
Jordan is a true advocate for seniors in long-term care. She states her first love in nursing was in long term care where the first half of her nursing career developed and blossomed. Jordan has nearly a lifetime of experience inside nursing homes as she grew up visiting her great-grandmother. Jordan acutely understands the need for greater good and joy in nursing homes and she is  excited and honored to serve along with Three Wishes for Ruby's Residents!
Jordan is an Ozark native. She is married to Keagan and they have 5  kids: Aidan, Maggie, Judson, Auggie and Teddie Dru. They enjoy outdoors the most as a family. The love hiking, gardening, playing cards, walking, bike riding, playing basketball, and going to the river.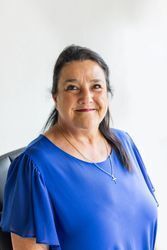 Community Outreach
Marsha Carter
Marsha (Hicks) Carter was born and raised in Harrison, Arkansas. Marsha is the former Director of Marketing for the nonprofit organization, North Arkansas Regional Medical Center. Marsha has been a well-known marketing leader in our area for decades. She has held multiple key marketing roles in large businesses in our community and she brings a wealth of knowledge to our board. 
She was the last daughter of three to Arlis and Fayetta Hicks. She and her sisters were known as the "singing Hicks girls".
Marsha graduated from Harrison High School and North Arkansas College. Marsha worked in marketing and public relations all of her life. Her career began at the Hits 96 radio station (formally 97 Country) in sales, followed by marketing, public relations, foundation, physician recruitment and volunteer management at North Arkansas Regional Medical Center for more than 30 years. She is currently employed by the office of Dr. Chris Taylor.
Marsha is married to Byron Carter and they have one son Colby Carter, Colby's wife, Kali Carter, and one grandson Easton Carter.
Marsha and her family attend Batavia Assembly of God and enjoy the lakes and rivers, boating, riding side-by-side's, exploring dirt roads and doing anything in outside!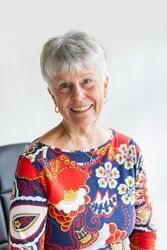 Volunteer Outreach Chair
Margaret Underwood
Margaret has extensive volunteer and nonprofit leadership experience .She currently serves as the President of the Arkansas Hospital Auxiliary Association and leads hundreds of volunteers throughout the state. Margaret has also played important roles in the Boone County Equalization Board and the Boone County Library Foundation. Her experience in these roles brings valuable knowledge to our board! 
Margaret is a native of Oklahoma and graduated from the University of Tulsa with a Bachelor of Science in Business Administration.  She is a former teacher with 37 years of experience as an educator. 
Margaret is married to Colonel David C Underwood USAF (RET) and she moved to Arkansas in 2003.  Margaret is very proud of her blended family of five children. She and  David also have 10 grandchildren from ages 1-19!!! She says their family reunions are quite interesting! They have a sweet love story and actually met way back in 1957 when they played in the Miami, OK Junior High School Band. 
Margaret brings extensive volunteer experience to the Board of Three Wishes for Ruby's Residents. She states, "I'm very proud to serve on the board. It's a wonderful tribute to Ruby, her family and her town for helping those who reside in nursing home facilities".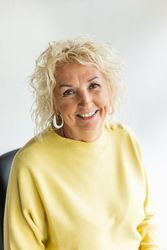 Lisa Martin 
Lisa is a widely recognized as a key community leader and volunteer. Lisa had has success fundraising and volunteering for The American Cancer Society's "Relay for Life locally and she is always the first to sign up for volunteer opportunities in our area. Lisa is a hard worker who is not afraid to take on challenges. She has a heart for service and she has the grit and determination to make positive changes, especially when it comes to seniors in long-term care. 
Lisa is a successful real estate agent with the Jerry Jackson Realty Team. She has lived in the area of Harrison, AR most of her life and her ancestors have a rich history both Newton and Boone County Arkansas. She is married to Larry Martin and together they have 2 sons. Lisa is a faithful member, teacher and volunteer at Northside Church of Christ.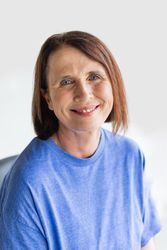 Vice President
Wendy Evert RN 
Wendy is a registered nurse. She has a diverse background in nursing and is well-known for providing excellent care and advocacy for senior citizens.  Wendy has practiced in many healthcare settings including long-term care, hospice and primary clinic nursing. She currently works as a population health nurse at Baxter Health Crossroads Family Clinic. Wendy is a solid, strong leader with a kind heart and she promotes our mission for seniors seamlessly in all that she does. 
The elderly have always had a special place in her heart. After losing her dad 7 years ago and her mom almost 2 years ago, Wendy enjoys reaching out to the older generation to help put a smile on their face and give them a feeling of being valued and needed. 
Wendy is married to Daniel Evert.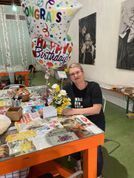 Public Relations 
Leslie Hinson 
Leslie Hinson is the face and voice of our beautiful 5000-square foot community center and organization headquarters located in Harrison, AR. 
Leslie leads multiple free activities and classes inside our center that serve to connect the generations. We have approximately 50 children attending classes in our center each week and this is staffed by Leslie and our amazing senior volunteers!
Leslie also coordinates, packs and disperses wishes to seniors across our region. We typically fulfill over 800 wishes a month! 
Come see Leslie and take a tour of our beautiful space! We are located at 102 W Stephenson Ave Harrison, AR 72601  870-517-5353
Contact Us: 3wishesforruby@gmail.com
Find us on Facebook @ Three Wishes for Ruby's Residents
Ava Grayce Prestridge 
Age 14 
Kid Board Member 
Leader for the state of Lousiana
Ava Grayce brings her cat, Atticus, on her trips to the nursing homes in Louisiana. Ava Grayce is the "Ruby" for LA!!! Ava Grayce is leading the way for youth activism and she is showing others how to volunteer and connect with nursing home seniors. Do you have ideas for Louisiana? Let us know.