Our impact as of 2023
Our youth have fulfilled over 40,000 wishes since 2019 and we currently fulfill approximately 1000 wishes a month. 
We built a one-of-a-kind 5000 square-foot community center to provide a space to connect the generations. We teach vintage skills and staff our center with senior citizen volunteers. Stop in and you might just find one of our seniors helping a classroom of children make crafts! It's a magical sight. 
Our national headquarters is staffed 5 days a week so that we can make this the biggest impact year ever! 
We have private donors to cover our operating costs and overhead. This means that if you give us a dollar, every penny of that is going to a senior in long-term care. We are financially sound and thrive on transparency, hard work and a fierce desire to change our nation's attitude towards our elders. 
You will find us in the news around the globe. Our founder was CNN Kid of the Year in 2022. We have received the highest accolades youth can receive for humanitarian work. We are # 1 in changing the lives of nursing home seniors. 
Our Story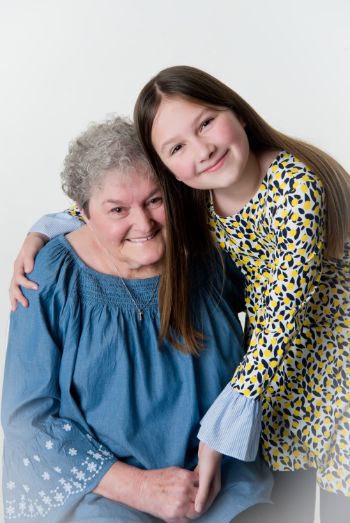 We're in the business of granting wishes. 
HOW IT BEGAN 
A message from our founder, Ruby Kate 
Here's my story.
I'm not your average 15-year-old. Candy is my favorite food and nursing home seniors are my favorite people. I feel like I grew up in nursing homes. It's what my mom does and I was with her a lot. I liked it and I liked them. I liked their hugs and I especially liked the way they made me feel. It was like they gave out "inside happiness". This all started when I decided to help one nursing home senior when I was 10. Her name was Pearl and she had to give up her dog. I learned that most nursing home seniors in America receive a very low "personal spending allowance" (PSA) each month that must cover everything from haircuts and clothes to pet food. How much is the PSA? It's $30 in NC and $40 in Arkansas. It varies from state to state but the one thing all states have in common is that it's low. They can't even afford Pepsi. Something as simple as a haircut is 25% of their monthly allowance. My friends in the nursing home were going without. I asked them,  "what are your 3 wishes?" and all they wanted were simple things like fresh strawberries, pants that fit and real cheese! If you asked kids my age that question you would get "a million $, air pods or a PlayStation".  These seniors just wanted what most of us have.
Fast forward to 2023 and I've founded a youth-led nonprofit that fulfills these small wishes for nursing home seniors across America.  Our nonprofit has fulfilled over 40,000 wishes. I've received the highest honors a youth can receive for my humanitarian work. My favorite thing is that I've taught kids, classrooms and adults from all over the country how to help nursing home seniors in their own communities. 
We are changing their world. It's a movement.
In a world where YOU can choose any charity, I hope you'll choose mine.  
Three Wishes for Ruby's Residents.
Ruby's Pledge for Three Wishes Volunteers
I will do my best to be:
Blind to everything but my small role in the facility,
Kind and Respectful to all that I encounter,
Responsible for my actions and words,
Aware of the tender feelings of others,
An inspiration to others through my actions today,
Leave the nursing home with more joy than I found it.